It's never too late to be whatever you might have been...now is a good time to start though.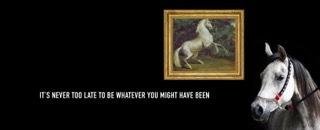 Very best wishes for 2018.
Whether we admit it or not, the beginning of the year always seems to be a time when we make promises to ourselves.
"This year will be different; I'm going to…"
"It's the start of the year and I feel like I have a clean slate. So I want to make some changes."
"I've come a long way but I still need to hone my ability to…"
That kind of thing.
And of course our professional lives are intrinsically bound up with these feelings of shift and change, making the most of ourselves and getting the best from our past experience and our future potential.
If you're starting the new year feeling that your motivation, direction or your support material (CV, presentation, interview technique, management skills) needs some well-thought-through input, I'd urge you to work with a coach to help you to get closer to where you want/ought to be in your working life. My diary is busy and there are a lot of individuals who are working with me as they make their own way through a life/work transition. And more and more I'm working with companies and agencies who recognise that they just aren't getting it right when it comes to attracting and retaining the best innovation and creative talent. I'm helping them to align ambition and reality on that issue too.
A commitment-free telephone conversation to start with could very well get you on your way towards a much better and more fulfilled 2018 and beyond. I'd be happy to hear from you.